Steak Stir Fry recipe from Taste and Tell
When I originally began this blog, I wanted to not only showcase my passion for running and fitness, but also my passion for food, horses, travel, and life! Obviously, I have yet to blog about anything but running, so here I go with what I hope to be a weekly segment that I've dubbed "What I Eat Mondays."  I think I was partially inspired by me making this recipe for supper last evening, and partially inspired by my general love for food in general.  I want to share my love for food and eating! So, that being said, let's start with what I had for supper last night, shall we?  Steak Stir Fry with Red Peppers!
As with many of my recipes, I begin my search with Pinterest.  I think I have something like 2500 recipe pins, which I have a fantasy to do one recipe everyday until I try them all!  Of course, doing the math, this will take me almost 7 years to complete.  Time consuming, yes, but worth it, don't you think? LOL
But, I digress.  My point with this is that I found this gem of a recipe on Pinterest and after examining the ingredients, I thought it was pretty close to clean eating, so I gave myself the green light to make it.  I also have been consuming alot of chicken lately and wanted a different source of protein. While there has been debate over the health benefits (or lack there of) of red meat, I personally side with Dr. Axe who states that grass-fed red meat actually is quite healthful!  Read about it here: 6 Grass-Fed Beef Nutritional Benefits
Now, on to the recipe.  I used a grass-fed flank steak, organic red bell peppers, and brown sugar instead of white sugar.  I also substituted some of the sugar content with a local mesquite honey. The recipe called for cornstarch, of which I did not have.  Instead, I used wheat flour.  If I wanted to be even more healthful in my preparation of this dish, I could have used almond flour. I also added a spoonful of peanut butter to the sauce, and some sesame oil.  I omitted onion, as the hubs cannot eat onion; instead, I sautéed yellow onion and mushrooms with EVOO (extra virgin olive oil) in a separate pan and then added some to my stir fry portion. The fresh grated ginger and cilantro really add to this dish and I highly suggest using these ingredients. I used white rice simply because this is Stir Fry to me, but I would have used brown rice to make this even more healthful. Yummy!
Here is the recipe from Taste and Tell:
Steak Stir Fry Recipe with Peppers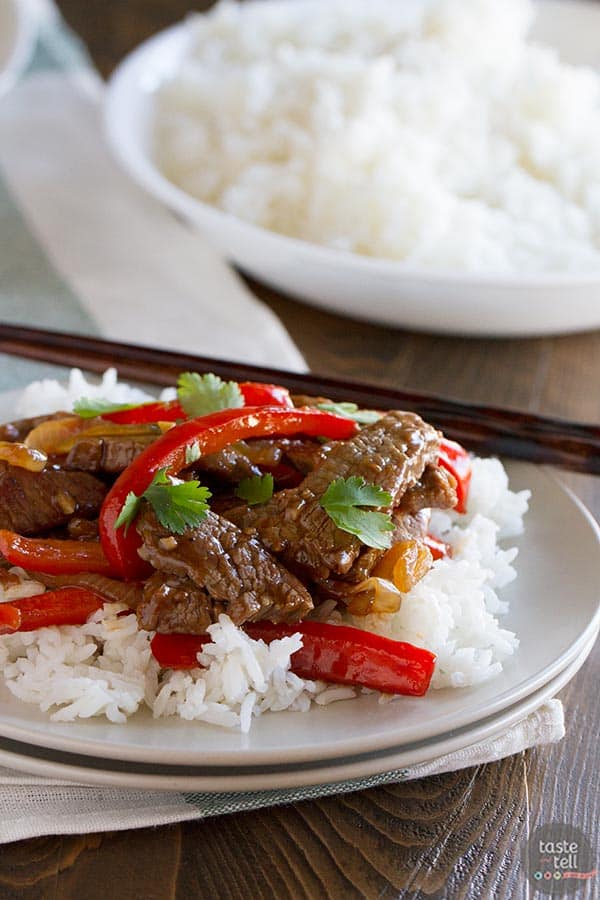 An easy steak stir fry recipe with onions and red peppers. Fresh orange zest makes this stir fry recipe pleasantly different.
Ingredients
¼ cup rice vinegar
¼ cup low sodium soy sauce
1 teaspoon grated orange zest
3 tablespoons sugar
1 teaspoon plus 1 tablespoon cornstarch
1¼ lbs flank steak, cut across the grain into thin strips
salt and pepper
2 tablespoons peanut oil or vegetable oil
1 medium yellow onion, thinly sliced
2 medium red peppers, seeded and thinly sliced
2 cloves garlic, minced
1 tablespoon grated or minced fresh ginger
fresh cilantro
2 cups cooked rice, for serving
Instructions
In a small bowl, combine the rice vinegar, soy sauce, orange zest, sugar and 1 teaspoon of the cornstarch. Set aside
Place the steak in another bowl. Season with salt and pepper, then add the remaining 1 tablespoon of cornstarch and stir to coat the meat.
In a large wok or skillet, heat the oil over high. Add the steak, working in batches if needed, and stir fry until browned but just short of being cooked through, about 2 minutes. Transfer the meat to a plate, then add in the onion, peppers, garlic and ginger. Stir fry until the vegetables are just tender about 5 minutes. Add the steak back into the vegetables and cook for an additional minute.
Pour the sauce mixture over the meat and vegetables and cook until it has thickened, 2-3 minutes.
Garnish the stir fry with cilantro and serve over rice.
Let me know if you try this recipe and how you like it!  What other Asian-inspired dishes do you like to make?